Employee Spotlight: Jessica Behmke
Jessica Behmke, P.G., has been an asset to Geo-Hydro's construction materials testing team in her 13 years with us, and we are proud to have her as our Lawrenceville Branch Manager.
Jessica grew up in Mathews, Virginia, and developed a passion for geology attending summer camp in the Shenandoah Mountains. She earned a bachelors degree in Geology at Bryn Mawr College, where she served as representative for the Geology Department and coordinated outreach programs about geology on campus. Jessica was first introduced to the construction materials testing industry through her first post-college job in Pennsylvania. Developing a love for the work, she decided to continue her career in construction materials testing when she moved to Georgia.
Jessica began with Geo-Hydro as a Staff Geologist performing construction materials testing in our Athens office. As she continued to hone her skills while learning new construction technologies and testing methods, she was promoted to Project Manager and then rose through the ranks to Senior Project Manager. Once earning her license as a Professional Geologist, Jessica became a Geo-Hydro Shareholder.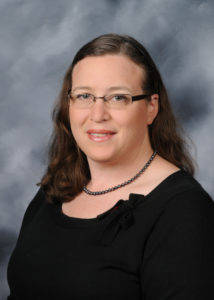 Upon re-expanding our Gwinnett County operations in 2018, Jessica took on the role as Geo-Hydro's Lawrenceville Branch Manager. With her leadership, we were able to begin operating full-time out of our new Lawrenceville space this year. In addition to better serving our clients, Jessica looks forward to growing our Lawrenceville team and introducing new individuals to the industry. "I believe Geo-Hydro is the perfect place for an individual to thrive in the industry because of our team-oriented atmosphere. I've received so much support and help from my colleagues as I transition into this new role," Jessica says.
Jessica specializes in all aspects of construction materials testing. Because her initial work as Project Manager focused on NPDES projects, she holds exceptional expertise in NPDES Compliance and permitting. She is also especially adept in specialized areas of concrete testing such as low strength investigations, concrete moisture/vapor emission testing, and floor flatness testing.
As part of the work for construction materials testing, Jessica enjoys being able to collaborate with all parties involved in a project. She explains, "I talk to the engineers and architects about testing needs and testing results. I talk to the superintendents about schedules. I talk to the guy holding the shovel while I do the testing. It really emphasizes every project is a group effort."
Jessica's passion for the construction materials testing industry extends beyond her time in the office. She contributes to outreach activities with K-12 students on behalf of Geo-Hydro. She has recently participated in outreach opportunities with Gwinnett County Public Schools and the Gwinnet County Library. Geo-Hydro's culture emphasizes learning, and we appreciate Jessica promoting a culture of learning both inside and outside of the office.
We look forward to our Lawrenceville office continuing to thrive in Jessica's very capable hands.