Project Spotlight: Tuskegee Airmen Global Academy
When students took leave for summer break in May, Geo-Hydro remained in school with construction in full-swing for the new Tuskegee Airmen Global Academy in Atlanta, Georgia. With the 2019-2020 school year underway, the Tuskegee Airmen Global Academy has officially opened and welcomed its inaugural class in its new building.
Tuskegee Airmen Global Academy is an Atlanta Public Schools elementary school. The new building replaces the original, 43-year-old building. The three-story, 107,747 square-foot school accommodates approximately 750 students. In addition to traditional classroom space, the school also includes STEM and flight simulator labs. The school's curriculum incorporates a focus on aerospace and engineering.
Geo-Hydro joined this $30.5 million project in February of 2018 to perform the subsurface exploration and geotechnical engineering evaluation for the school's design. Construction of Tuskegee Airmen Global Academy began in July of 2018, and Geo-Hydro provided construction materials testing and Special Inspections throughout its duration. Geo-Hydro worked alongside a talented project team including Collins Cooper Carusi, the architect; Uzun+Case, the structural engineer; and JE Dunn, the contractor.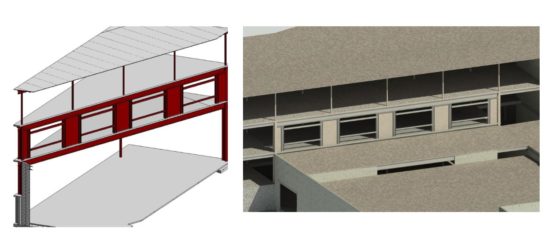 To meet the needs of the innovative design for the Tuskegee Airmen Global Academy, Geo-Hydro incorporated advanced testing techniques throughout our work. Doug Cozzens, P.E., ASNT II, one of Geo-Hydro's associates, performed ultrasonic steel testing on a unique, one-story-tall transfer truss with a clear span distance of 104 feet designed by Uzun+Case. The transfer truss was assembled almost entirely in the field and supported two elevated stories of classrooms above the newly constructed gymnasium. Ultrasonic steel testing provided a non-destructive method to test the welded connections and to deliver high caliber quality assurance.
Geo-Hydro is proud our summer included the opportunity to provide a new space for Tuskegee students to learn and grow. Our team is always eager to take part in creating facilities that cultivate our community's ability to provide education.