Geo-Hydro Awarded ASCE Project of the Year for Quarles WTP
Geo-Hydro is honored to announce our project submission of the James E. Quarles Water Treatment Plant 1 Replacement in Marietta, Georgia, which has been awarded the ASCE Georgia Section Large Project of the Year in the Water Resources category. This award recognizes projects involving design and construction of facilities that are predominantly civil engineering in nature and that have a built environment total project cost of more than $7,000,000.
Geo-Hydro would first like to thank the Cobb County-Marietta Water Authority (CCMWA) for entrusting us to participate in this significant project. We'd also like to thank our fellow team members, Hazen & Sawyer and Archer Western, for their collaboration and contributions which have been integral in this project's success. Hazen & Sawyer, as the project designer, integrated many innovative and unique features into the project, ranging from public outreach to scheduling and construction sequencing to equipment and processes to enhance efficiency and sustainability. General Contractor Archer Western has been instrumental in delivering this intricate project, overcoming site challenges and a demanding schedule.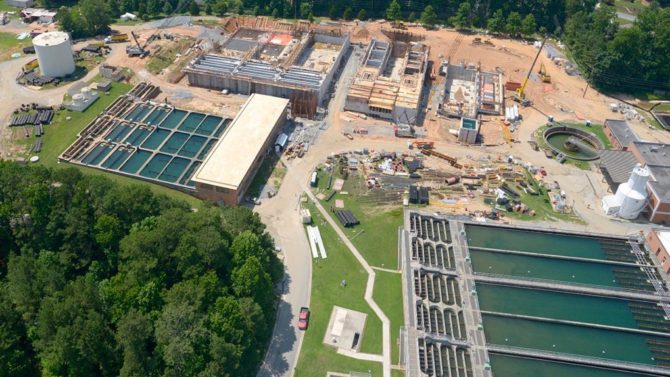 The James E. Quarles Water Treatment Plant – Plant No. 1 Replacement is a $71.8-million-dollar project to replace the original water treatment unit at this CCMWA facility. The original water treatment unit was constructed in 1952, and replacement of the aging facility is necessary to ensure continued and reliable water service for CCMWA's customers. The project is divided into three phases to maintain adequate treatment capacity and water supply to CCMWA's customers while the new Plant No. 1 unit is constructed within the footprint of the original Quarles Plant No. 1.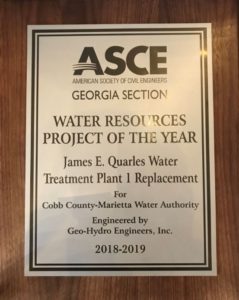 As the geotechnical engineer of record, Geo-Hydro has been involved in the replacement of Quarles Plant No. 1 since the project commenced in 2015. Over the course of the project, Geo-Hydro has provided geotechnical design recommendations, environmental testing, and construction materials testing and Special Inspections. Geo-Hydro's construction materials testing and Special Inspections are on-going with the project currently in its second phase.
The replacement of Quarles Plant No. 1 will strengthen and improve the plant, bettering its ability to serve approximately 750,000 people in Cobb County and neighboring counties. Upon completion, the new Plant No.1 will have a treatment capacity of 33 million gallons per day. The scheduled completion date for the project is October 2020.
Geo-Hydro is proud to have a role in advancing the infrastructure that sustains our community and helps it thrive.